R & V NCC Sqdn
College of Veterinary & Animal Science, Bikaner NCC unit is associated with Group HQS. NCC Jodhpur. NCC R & V Sqn. is fully equipped with horse line (having 13 army horses), an arena for exercising and show equestrian sports. Authorised strength is 200 cadets. NCC provides institutional training as well as various camp training, National integration camp, Advance leadership camp, Summer camp, Rock climbing, Para jumping, Mountaineering, Army attachment camp, Republic day camp etc. are all main camps. Poor but intelligent cadets can get scholarships through NCC.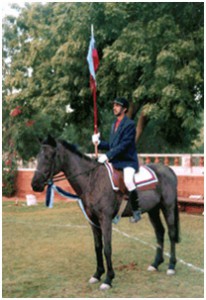 After completion of prescribed camps & Training, cadets appear in B & C certificate exams. 'C' Certificate holders are exempted to appear in written exam for Commissioned Officers by UPSC. Even 'C' certificate holder need not appear in written exam for Sainik General duty. Cadets are preferred in recruitment by CSIF, CRP, Police, Home Guard & some Private industries, many cadets have availed an opportunity to undergo various camps in Gujrat, Andhra Pradesh, Goa, Kerala, Himachal, J & K, Uttranchal, over a period. A number of cadets (six) attended Prestigious Republic day camp at New Delhi. Any information related to NCC may be obtained from Captain Prof. R.N.Kachwaha, Associate NCC officer of the Local Unit.
As per VETERINARY COUNCIL OF INDIA, 6th August 2008 notification, Students of first two years of the B.V.Sc & A.H. degree course in the faculty of veterinary and animal science shall compulsorily join one of the training program i.e. Remount Veterinary Corps (RVC) Squadron/ National Cadet Corps (NCC)/ Equestrian/National Service Scheme (NSS)/ Sports and games.
The performance of the students in these training programmes shall be assessed and graded as 'Satisfactory 'or' Unsatisfactory'. A student has to obtain 'Satisfactory' grading for successful completion of course requirements. Students joining one scheme or the other shall have to give attendance in the scheme they join, the same percentage of attendance as for their subject of studies.