Clinical Services
College of Veterinary & Animal Science, Bikaner is having the richest clinical facilities with separate indoor, outdoor, animal critical care unit and examination- operation facilities for all the clinical departments. The annual turnover of the cases reaches 30-40 thousand per anum providing the students excellent material for clinical practice. During last 5 years infrastructure worth Rs 15 crores were added to the campus. Equipments worth more than Rs 5 crores have been purchased to upgrade the laboratories, all funded from the World Bank project of ADP. The ICAR in twelve plans had also provided Rs 1.87 crores for upgrading the laboratory and physical facilities.
Newer diagnostic tools such as ultrasonography, CT Scanning (Computed Tomography), MRI (Magnetic Resonance Imaging), PET (Positron Emission Tomography) and SPECT (Single Photon Emission Computed Tomography) are being used in the field of diagnosis and treatment of diverse surgical disorders. Laproscopic surgery is designed to minimize patient morbidity and to decrease hospitalization. Significant advances have been made in the repair of fractures animals particularly in camel, canines and equines.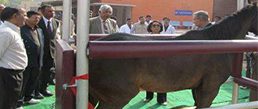 Recently, the College has added Clinical diagnostic laboratory, ultra sonography dopper machine in the animal critical care unit, Veterinary forensic medicine laboratory, a radioisotope laboratory, feed and fodder analysis laboratory, invitro fertilization lab, Bioinformatics and Chemo Informatics lab., Centre for Etheno Veterinary Practice & Alternative Medicines and Centre for Disaster Management Technology for Animals.
A special travice was designed for the treatment of horses and Camel. The department of Medicine, Surgery and Obstetrics & Gynaecology runs a clinic for 24 hours a day bearing lunch hours. Computer facilities, LAN server, central instrumentation facility, animal house, Canine Welfare society, placement cell, internet facility, clinical and veterinary hospital facilities, veterinary laboratory diagnostic facilities, numerous research projects with few having on-farm research component are some of the important specialties of the college clinics.
Since, last few years, the faculty of this college is contributing around 100 research clinical papers annually. Much stress is being laid over improved practical training to the students. For this purpose, the faculty has developed practical course manuals of most of the 70 practical courses running in UG programme. Every clinical department is equipped with OHP and slide projector to ease out practical teaching. Departments like Pathology, Obstetrics & Gynaecology, and Clinical Medicine are having CCTV attached microscopes for collective display and explaining slide materials. All the departments are equipped with computers to help generating teaching and examination materials.