It is indeed a proud moment for all of us that the Government of Rajasthan has established the Rajasthan University of Veterinary and Animal Sciences at Bikaner (10th in the country) which commenced w.e.f. 13th May, 2010. This step of the Government is in realization of the importance of Animal Husbandry Sector in the economy of the state. This sector often exceeds 50% of the total contribution of Agriculture in the GDP of the state. The strength of this sector lies in its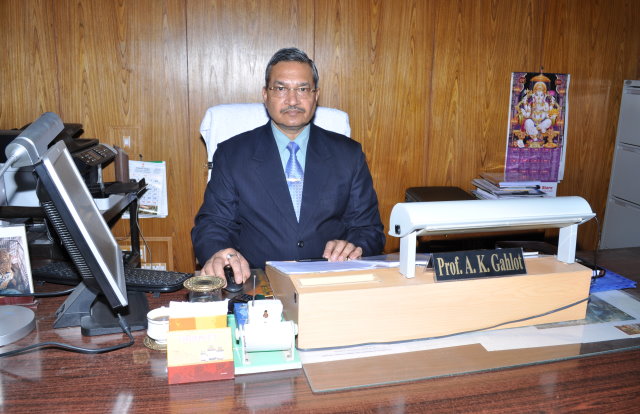 consistently higher growth rate (4-6%) than overall of Agriculture, women empowering (90% of labour), significantly contributing to the income of around 70% rural households (40-80%) who owe livestock and poultry amongst its holding etc. We should be highly thankful to Hon'ble Chief Minister Sh. Ashok Gehlot and Hon'ble Minister for Agriculture and Animal Husbandry Sh. Harji Ram Burdak for this progressive step. Since opening of the first veterinary college of the state at Bikaner in 1954 (10th in the country), the state had been leader in veterinary education. Rajasthan is the first state in the country to have PPP mode in veterinary education. This university is the first to have largest number of veterinary colleges (9 as on now) with it. CVAS, Jodhpur is the latest in it to start from the current academic session as the third constituent college.
The university has been established for the purposes of development of veterinary and animal sciences in the State of Rajasthan by ensuring proper and systematic instruction, training, research and extension in modern systems of veterinary and animal sciences and its allied sciences at its constituent as well as affiliated colleges. In its act "veterinary and animal sciences" includes all the disciplines of veterinary, animal sciences and animal husbandry including poultry and its allied sciences, e.g., fisheries sciences, sciences of animal kingdom, faunal, wild animals, silkworm, bees etc., including their Natural Resource Management, Production and Protection, Dairy Science and Livestock Food Technology, Agriculture Engineering and Technology pertaining to animal component, Animal Business Management, Basic Sciences and Humanities in relation to veterinary and animal sciences, and any other subject deemed to be related to veterinary and animal sciences. Therefore, it provides ample opportunities to the university to flourish in all these directions.
Within the short period of its inception the university has started expanding its horizons. We have started Diploma in Animal Husbandry programme at two more locations. A college at Jodhpur will make number of constituent colleges as three. This college has been envisaged on self-finance basis, which shall be challenging but innovative mode to develop. The university has already initiated dialogue with many agencies, viz., Iranian Embassy, Pioneer Hybrid International (Hyderabad), Donkey Sanctuary (UK), ISKCON (USA), Triphase Pharma (Hyderabad), Central Wool Development Board etc. to start meaningful collaboration. We shall soon be making available telephone helpline for farmers, field vets and students. Many more innovative steps are on anvil. At this juncture, I only want to assure the veterinary profession that we are poised for big leap.
I shall also like to utilize this opportunity to thank all professional colleagues for their undaunted support during the formation of this university. There are many unsung heroes in the list. Apart from professionals, we should be thankful to all non-professional persons who have also been supportive. Veterinary and Animal Sciences are now at the threshold of amalgamation with industry and commerce, which calls for value addition at the site of production, market chain and feeding national and global market. The need of inculcation of self-reliance in students for securing coveted placements and addressing to the expectations of rural and urban sectors of societies can be met with increased Teaching-Research-Extension linkages. The challenges of keeping abreast with modern trends of Research have been sharpened as well as facilitated on account of advents of Info-communication Technology (ICT) through which the world has been transformed into a global village. The Government of Rajasthan have always been supportive to strengthen teaching, research and extension efforts and allowed university to be growth oriented and functional. The onus is upon the RAJUVAS family to become more effective and output oriented. The time is now ripe that we resolve to become world leader in Veterinary Science with wealth of indigenous knowledge and traditions of the region.
Traditions are good to sustain but new paths are to be searched for growth and this would need innovativeness in ideas and freedom of action. The current scenario offers us a queer admixture of aspirations and apprehensions. We, as enlightened clan, are expected to convert challenges into opportunities. Let's accept this challenge. Assuring of my bit of contribution of providing a congenial and uninhibited working environment, I look forward toward a new zest, vigor and interest in one and all to work for better living of animals and their owners.
Ajay Kumar Gahlot