Green Fodder production Through Hydroponics Technology  
Hydroponics technology is one such technology that seems to be promising to provide quality green fodder of high nutritive value for feeding of animals with other added advantages such as saving of water (2-3 lit/Kg green), marginal land use (1/12 of the space needed in conventional agriculture), constant feed supply, less labour requirement, organic green fodder (free from pesticides, fungicides) etc. University has identified it as an area of priority so that this innovative technology may be made area suitable, and could be used in feeding of animals so as to provide economic and nutritionally balanced ration to improve and sustain productivity.
In addition to research & development for scientific validation of hydroponics technology and its refinement for added advantages, the University is also sharing responsibility of imparting of knowledge to the farmers regarding animal nutrition with reference to significance of green feed in improving animal productivity and health status; hydroponics technology and its advantages for farm animals feeding, etc. Three units have already been established at Bikaner, Vallabhnagar and Jaipur campuses to take up research and extension work at a faster pace.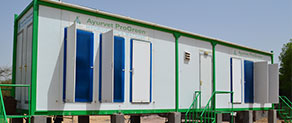 Help Line

Calendar

E-BULLETIN

M-RAJUVAS